Jungle Property win Mendip Business Award for Customer Service Excellence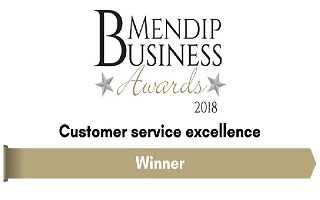 At an award ceremony held at the Bath & West Showground on Friday 1st June, the best of Mendip businesses were recognised for their achievements
Having been a finalist in 2015 & 2017 and winners in 2016, Jungle Property were again winners in the Customer Service Excellence category beating tough competition from the many great businesses in the district.
Daymaker Charlie Morgan said 'Our healthy obsession with customer experience is underpinned by our first core value which is to make customers really, really happy. Winning the award is just amazing and is recognition that we are indeed to the right track when it comes to delivering a great customer experience.'
The Customer Service Excellence award recognises the businesses who consistently deliver exceptional levels of service standards and with so many great businesses in central Somerset, winning the award is indeed a great achievement.
Jungle Property are constantly looking at ways to improve the customer experience so will not be putting their feet up!
Founder Tom Morgan said 'Continuous improvement is another of our core values and despite winning the award there are always ways to improve what we do so we have this week released a knowledgebase to provide self-help for clients to find answers to their questions.'
'Going forward it's s a very exciting time for Jungle Property and we look forward to seeing what the future holds!'